Procedure Efficacy
Everyone's expression of acne is unique and can range from mild to severe. Severe acne is most responsive to photodynamic therapy and medication, such as Accutane. Moderate acne is most effectively improved with medication, acne facials,
pulsed dye laser treatment
, and smoothbeam laser treatment. A series of acne facials, chemical peels, and microdermabrasion are most effective at treating mild acne.

Treatment Plan
The quickest and most effective way to treat acne is with a combination of different modalities that attack specific causes of acne. The efficacy of medication and photodynamic therapy can be enhanced with procedures that open up microcomedos, the starter lesions of all acne. These procedures include acne facials with extractions, salicylic acid peels, and microdermabrasion. Glycolic acid topicals and peels can also be used to reduce the appearance of lingering pigment caused by old acne breakouts.
Dr. Ringpfeil treats her teenage son with photodynamic therapy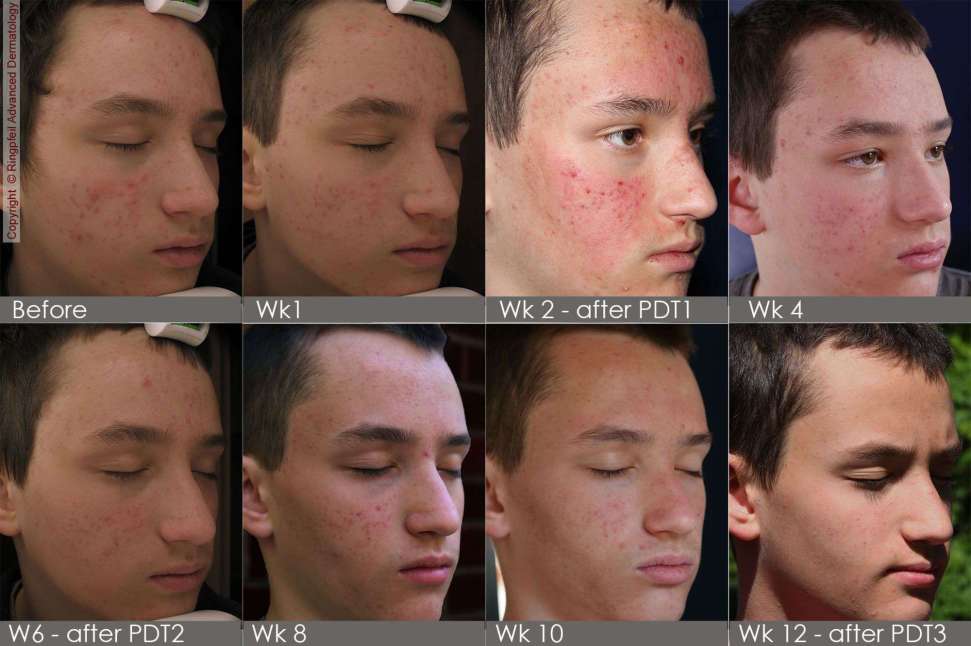 After a six month stay in Germany, Dr Ringpfeil's son returned covered with moderate acne.
Dr. Ringpfeil
selected to treat him with
photodynamic therapy(PDT)
. After 12 weeks, three PDT treatments, three chemical peels, and one PDL (Pulsed Dye Laser) session the acne was under control and the acne started clearing.

Treatment by Core Causes
Acne can seem relentless because there are several factors that contribute to the formation of breakouts. The four most common causes of acne are clogged oil ducts, hormones, bacterial colonization, and inflammation. These factors can even be worsened by increased stress and an unhealthy diet. Combatting all of these causes can seem overwhelming and discouraging. Fortunately, our experienced dermatologists understand each cause and know what therapies are needed to attack each one.

Time to Results
In mild acne, improvement can be seen after 1-2 months of treatment. Moderate acne usually takes about 2-4 months of treatment to see improvement. Severe acne can start to be improved after 4-6 months of treatment.