Keloids are among the most commonly treated skin ailments at our practice. These spontaneous and unsightly scars are a cosmetic nuisance and, when severe, can even be physically debilitating. It is well known that keloids are difficult to treat due to their high rate of recurrence. However, our patients have the opportunity to avoid this statistic. For appropriate candidates, we offer the CryoShape ™ procedure, an FDA approved treatment that has eliminated keloids without recurrence in over 97% of patients who have had the procedure to date.
For appropriate candidates, we offer the CryoShape ™ procedure, an FDA approved treatment that has eliminated keloids without recurrence in over 97% of patients who have had the procedure to date.
Keloids are benign overgrowths of scar tissue that occur spontaneously at sites of trauma to the skin. They are most likely to develop on the frontal midline of the body, but also frequently occur on the earlobes. Some keloids are asymptomatic, while others cause varying degrees of itching, tenderness, and redness.
Keloids can be hereditary and are most common in individuals of Mediterranean and African descent. Children are also at a higher risk for developing keloids. Treatment is recommended for symptomatic and actively growing keloids to reduce symptoms and prevent enlargement of the keloid itself.
Treatment Options
Treatment is determined based on the size, location, and symptoms of the keloid. While keloids on the face, chest, abdomen, and back are best treated with a combination of steroid injections and laser treatments, keloids that are larger and more raised or on the earlobes may benefit more from cryotherapy or surgery. Our providers utilize a combination of these treatment methods to give you the best results possible.
Treatment options:
Cryoshape
Steroid Injections
Laser
Surgery
Radiation
1. Cryotherapy
Cryotherapy, or treatment with liquid nitrogen, can be delivered both externally and internally. External cryotherapy treats keloids from the outside. A pressurized spray canister is used to apply liquid nitrogen to the surface of the keloid. The liquid nitrogen freezes the keloid tissue and destroys its blood supply so that it can no longer grow. Eventually, the destroyed tissue falls off. External cryotherapy is typically the least effective treatment method for keloids. On the other hand, CryoShape ™, a type of internal cryotherapy, is an extremely effective method of treating keloids on the earlobes and larger, raised keloids. It has a 97% no-recurrence rate and does not pose a risk for pigmentary changes of the skin surrounding the keloid, unlike external cryotherapy. CryoShape ™ destroys the keloid from within by delivering liquid nitrogen through a probe that is inserted into the center of the keloid. The keloid is expected to shrink/flatten significantly within 2-4 months after the first treatment. The CryoShape ™ procedure is performed in our office under local anesthesia, so there is minimal discomfort during the procedure. Duration of treatment depends on size and thickness of the keloid. The treated area feels tender for several days after the treatment and may require Tylenol. External cryotherapy submitted to insurance/CryoShape ™ $1000 for first site and $100-200 for each addition site during same day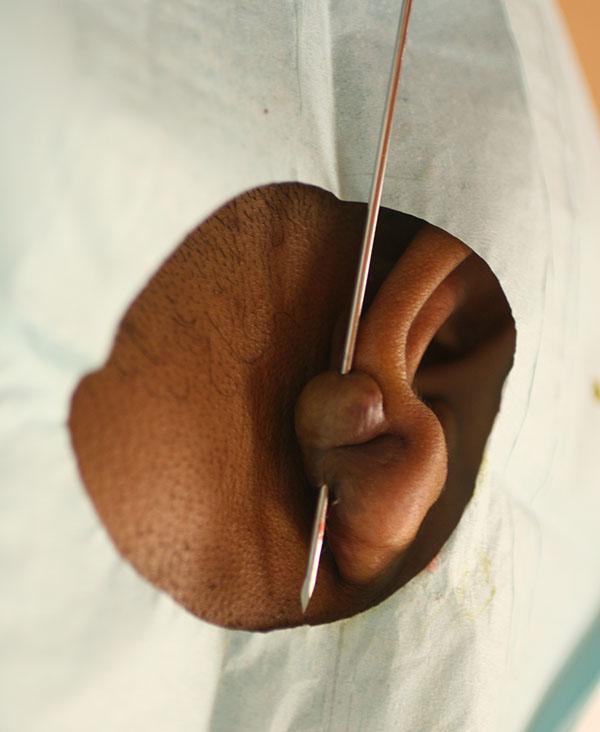 2. Steroid Injections
Intralesional Kenalog is a corticosteroid that is delivered directly into the keloid with a needle or Dermojet device. A series of Kenalog injections performed every 4 weeks can reduce inflammation, minimize symptoms, decrease size, and soften keloids that are firm to the touch. If adequate results are not seen with various strengths of Kenalog, an anti-cancer chemotherapeutic agent, 5-fluorouracil, can be injected in combination with Kenalog to increase effectiveness of injections. Submitted to insurance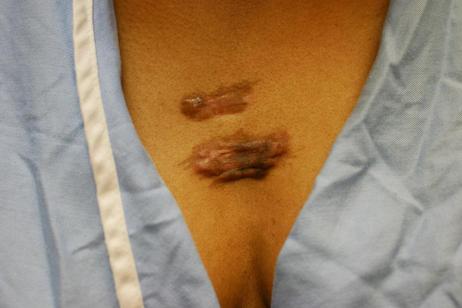 3. Laser
Pulsed dye laser treatments reduce acute inflammation, minimize redness, and promote softening of keloids. Typically a series of treatments performed every 4-6 weeks is necessary until keloids are no longer red. The treatment causes red/purple discoloration on the skin for several days after the treatment. Pulsed dye laser is often performed in combination with steroid injections. Submitted to insurance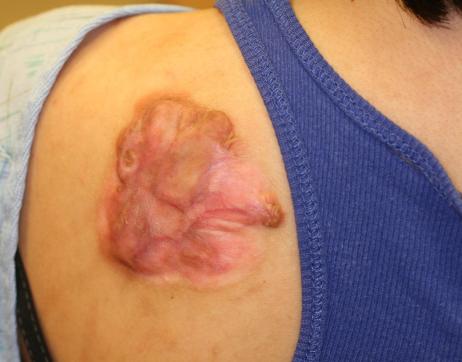 4. Surgery
Excision, or complete surgical removal, runs a high risk of recurrence. Often, keloids that develop after excision are larger than the original keloid. Therefore, excision is typically reserved for keloids on the earlobes or those too large for conservative treatments. We only perform excision of keloids on the earlobes. Firm keloids must be softened with a series of steroid injections prior to the procedure. During the excision, the site of the keloid is numbed with local anaesthesia and the keloid is subsequently removed with a shave technique. The procedure is followed by 3 postoperative steroid injections to reduce the risk of recurrence. The first injection is performed immediately after the excision and the following are given every 2 weeks thereafter. Submitted to insurance.
5. Radiation
Radiation is rarely used in the treatment of keloids, but can be performed after excision of gigantic keloids to prevent recurrence. We do not offer radiation or excision of gigantic keloids, but can refer you to a competent specialist.

Prevention
The best way to prevent keloids is to avoid elective procedures, including ear or body piercings, tattoos, laser treatments, or cosmetic surgery. If surgery is medically necessary, steroid injections delivered to the surgical wound after the procedure can be used as a method of keloid prevention. Postoperative application of imiquimod and pressure dressings may also reduce the risk of keloid formation.