About Rosacea
Rosacea affects both men and women, typically between the ages of 30 to 50. It varies in severity, but almost always causes background redness on the cheeks, nose, forehead, or chin of affected individuals. This redness can worsen when exposed to certain triggers. Intermittent inflammatory and pus-filled bumps are another common symptom.
Additional symptoms include:
A tendency to blush easily
Persistent redness in the center of the face
Telangiectasias (small visible blood vessels)
Burning, stinging, itching, or tightness on the face
Dry skin on the face
Swelling on the central face
Thickening of the skin on the nose, cheeks, and/or forehead,
Rhinophyma (bumps on the nose that may develop if rosacea is left untreated)
Eye burning, itching, or watering
Eyelid swelling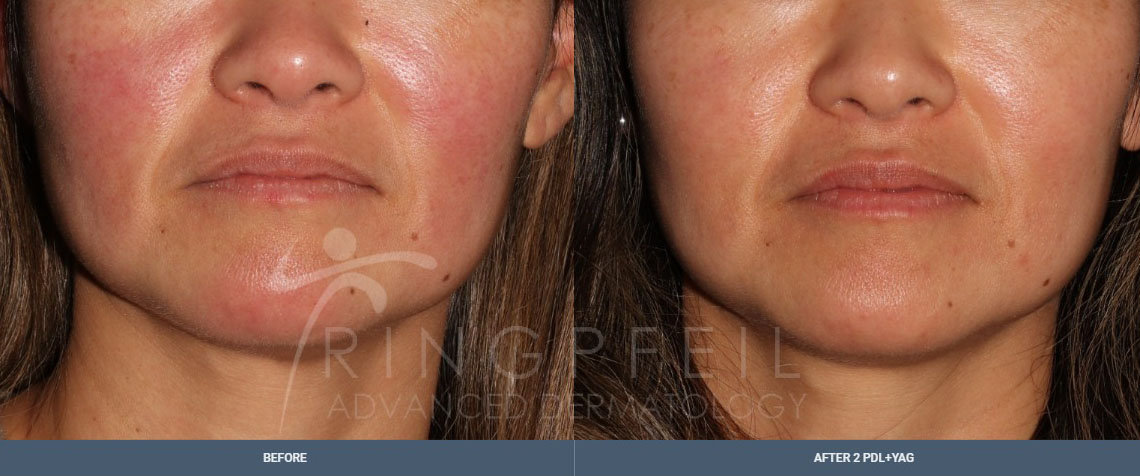 Treatment Options According to Type of Rosacea
Treatment is designed to combat the specific type of rosacea that affects the individual. Three types of rosacea we commonly treat at our practice are 1. telangiectatic rosacea, 2. inflammatory rosacea, and 3. ocular rosacea. We use a combination of oral & topical medications, lifestyle modifications, laser and light therapies, chemical peels, and surgical procedures to give you the best results possible.
1. Telagiectatic Rosacea
Telangiectatic rosacea causes background redness and involves a tendency to flush or blush easily. It can temporarily improve with topical medications, like Mirvaso ®, that aim at reducing facial blood flow and background redness for several hours. Permanent reduction of background redness can be achieved with pulsed dye laser (Vbeam) treatment. Retreatment every 7 to 10 years can be performed as new vessels form or dilate due to the underlying inflammatory state.
2. Inflammatory Rosacea
Inflammatory rosacea causes persistent redness, pimples, and visible threadlike blood vessels in the center of the face that can spread to the cheeks, forehead, chin, and nose. Topical azelaic acid, anti-mite, or antibiotic creams can effectively reduce the inflammation that is caused by this type of rosacea. Quelage peels, performed in the office, can also help to calm inflammation. When topical treatments are not enough, low dose oral antibiotics, such as doxycycline and Oracea ®, can be used in combination with topicals to help reduce inflammation. These oral antibiotics are safe to use because they function at a sub-microbial dose, meaning that you benefit from their anti-inflammatory properties without endangering the good bacteria in your intestines.
3. Ocular Rosacea
Ocular rosacea causes burning, itching, or watering of the eyes. We can improve these symptoms with artificial tears or cyclosporine eye drops. Oral antibiotics can also be used for symptomatic and worsening eye involvement.

Triggers
Common triggers that can worsen rosacea symptoms are stress, anxiety, heat (from sunlight, shower, or exercise), food (spicy or hot), alcohol, and weather changes (hot, humid, cold, and wind). While avoidance of these triggers can help prevent rosacea flare-ups, we realize that complete avoidance of all triggers is sometimes impractical. Additionally, not everyone with rosacea is affected by all of the above triggers. Therefore, we recommend that you keep a daily diary to identify your specific triggers. Furthermore, we encourage all individuals affected by rosacea to wear sunscreen with UVA/UVB protection, wear sunglasses, moisturize dry skin, control indoor temperatures (especially when exercising), stay well-hydrated, and manage stress.